AFROGALACTIC TROPIDELIC SOUNDS of the NAG CHAMPAYONS
"Hailing from Miami's loosely-knit enclave of Francophone cultures known as "Little Haiti," six-man "afrogalactic" jam outfit The Nag Champayons thumb their musical noses at the borders of geography and time. If at moments their sound recalls the patient, psychedelic grooves of Nigerian legend King Sunny Ade with a little Woodstock thrown in, at others, it speaks to some illicit rendezvous between hip-hop, droning sitars, funk, and the Afro-Cuban entire. Dark, hypnotic, and defiantly unpredictable, the group is not to be missed."
- Brooklyn Academy of Music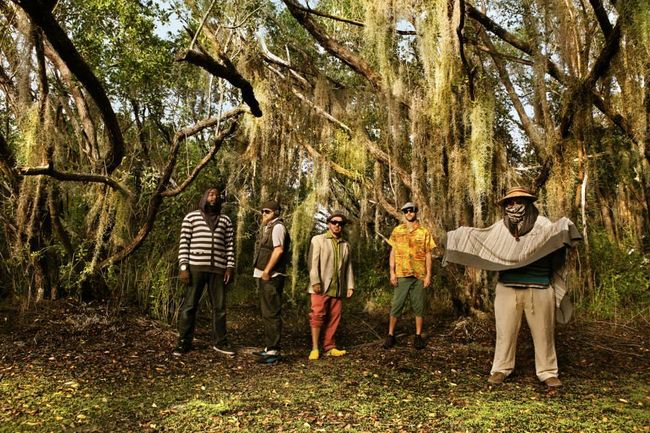 The group began as a improvisational collective who's name came out of the burning of Nag Champa incense during early jams and won the band New Times' "Best Band Name". Drawing from African, Caribbean, hip-hop, rock and jazz influences, the NAGs have consistently amazed crowds with their diversity, quickly rising to the top of Miami's music and art scene.
On the heels of their acclaimed single "James Brown's A$$" the band was invited by the Brooklyn Academy of Music to perform as part of two of their premiere productions, the Si Cuba Festival and the Dance Africa Festival! As part of the Moksha Family Visionary artist collective, the Nag Champayons have had the honor to collaborate live on stage with legendary painters Alex Grey, Mark Henson and Alex Sastoque.
The Nag Champayons continue to challenge convention with their 2012 EP & the acclaimed single "183rd St. Flea Market featuring long time NAG collaborators El Chino Dread Lion, formerly of "Yerba Buena" and Itagui of "Locos por Juana".